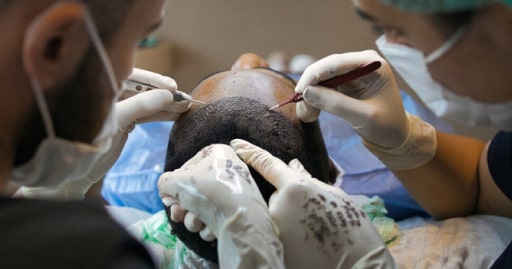 Hair loss may be a difficult condition to cope with, regardless of gender. Hair is a vital part of our looks, and losing it may have a negative influence on our self-esteem. Thankfully, there are options for restoring your hair and your self-esteem. Hair transplant and prosthetic hair are two prominent choices. Undoubtedly, a Hair Transplant Cost in Delhi would be more than a prosthetic hair solution but it is not the only aspect to declare that prosthetic hair is the winner. In this post, we'll look at both strategies and see whether there's a clear winner.
How do synthetic hairs work?
Prosthetic hair, sometimes referred to as hair systems, hairpieces, or wigs, is man-made hair that is intended to appear and feel natural. These hairpieces are constructed of either human or artificial hair and are affixed to the scalp in a variety of ways.
Adhesives:
These are put to the head and the bottom of the hairpiece and are one of the most frequent techniques of attachment. The glue forms a strong link between the skin and the hairpiece, enabling the user to go about his or her everyday activities without worrying about the hairpiece falling off.
Clips or combs:
Clips or combs sewn inside the hairpiece and connected to the natural hair are another common technique of attachment. The clips or combs used in this approach give a firm grip, but they may cause pain or discomfort to the skin.
Colours:
Prosthetic hair may be coloured, textured, and styled to resemble the wearer's real hair, giving a natural-looking remedy to baldness. They are also a less expensive alternative to hair transplantation.
What is hair transplantation, and how is it performed?
Hair restoration is a surgical process that involves transplanting hair follicles from one part of the scalp, known as the donor area, to another area of the scalp, known as the recipient site, where hair loss has developed. The surgery is usually carried out under local anaesthetic and might take several hours to be performed, depending on the amount of baldness and the number of hair follicles implanted. The FUE Hair Transplant Cost in Delhi is a little more than FUE but it is significantly more effective and less invasive.
FUT:
FUT is the process of taking a piece of skin from the donor location, generally at the rear of the scalp, and splitting it into separate hair cells for transplantation. The wound is subsequently stitched or stapled shut, leaving a mark on the scalp.
FUE:
FUE, on the other hand, entails harvesting single hair follicles from the donor area and transferring them to the recipient site using a tiny punching instrument. The technique produces fewer marks than FUT. FUE is considered a more effective Hair Transplant in Delhi as compared to FUT. This is why Panacea Clinic has invested in more advanced forms of FUE.
Bio FUE:
Do you know that Bio FUE, an advanced method available at Panacea Global Hair Clinic is highly effective and produces a significantly higher success rate in the hair transplant field? Bio FUE includes collecting hair from the donor region, creating holes on the patient's scalp, and then transplanting the hair into the pockets. After its growth phase, the implanted hair is trimmed. In addition, the treatment uses the patient's blood plasma to reinforce newly formed follicles, simulating natural hair development. This procedure makes use of advanced technology, and surgeons are trained to deliver these services.
Comparison:
Hair restoration operations are less invasive and painless, and synthetic hairs are used instead of standard surgical approaches.
Hair transplants provide lasting results, while synthetic hairs might be temporary or semi-permanent.