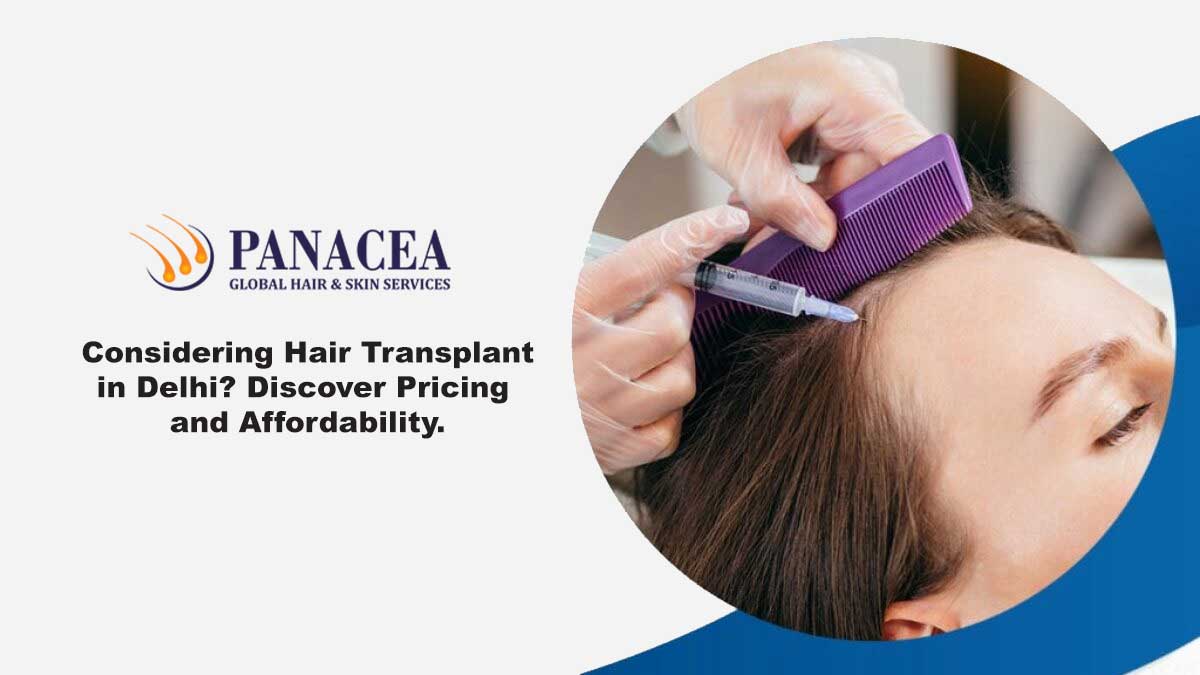 If you're contemplating a Hair Transplant in Delhi to treat hair loss, you're not alone. The desire to have a head of hair is understandable. However, before embarking on this adventure, it is reasonable to be concerned about the associated expenditures. This post will discuss the elements that determine the cost of hair transplants, as well as how to choose the best choice for your budget. We'll also introduce you to Panacea, a prominent hair transplant facility in the heart of New Delhi.
When establishing the cost of a hair transplant, many variables come into play. The severity of your baldness comes first. This is an important issue since it directly affects the number of grafts necessary to attain the desired outcomes. A larger balding pattern may demand a greater quantity of transplants, raising the total cost of the treatment.
Count of Grafts Required
Another important consideration in deciding the cost of your Hair Transplant in New Delhi is the number of grafts required. Grafts are individual hair follicles taken from donor locations and implanted in areas of balding or thinning hair. The process gets increasingly labor-intensive as the number of grafts needed increases, resulting in increased expenditures.
Geographic Area
The cost of your hair transplant may also be affected by your geographical location inside Delhi. Clinics in high-traffic regions may charge more rates than those in less-convenient locales. When making your selection, prioritize the quality of treatment and the competence of the medical staff above location.
Clinic And Surgeon
It's crucial to know that the cost of a hair transplant varies based on the facility or surgeon you go with. Renowned clinics with skilled Hair Transplant Doctor in Delhi may demand a higher fee. However, keep in mind that going with a reputed clinic assures a greater degree of safety, quality, and knowledge, which might be well worth the expense.
Panacea is committed to offering top-notch hair transplant procedures that are both effective and economical, with a staff of highly qualified specialists and cutting-edge facilities.
Hair Transplant Pricing Factors
The technique used to transplant hair might affect the final cost. FUE (Follicular Unit Extraction) and FUT (Follicular Unit Transplantation) are both expensive procedures, so exploring your choices with the This clinic team will help you make an educated decision.
The level of your hair loss, which is graded, is an important factor in calculating the quantity of grafts required. The skilled staff at This clinic will examine the severity of your hair loss and offer the best treatment strategy for you.
Precision and ability are required to get high-quality results and natural-looking hair. This clinic takes pleasure in producing remarkable results, guaranteeing that your hair transplant investment is well worth it.
The surgeon's experience and competence are critical to the success of your hair transplant. This clinic has a staff of highly trained surgeons who have a track record of producing good outcomes.
The proficiency of the surgical team is equally as vital as the ability of the surgeon. Every stage of the treatment is carried out with accuracy and care by This clinic's professional staff.
The intricacy of the surgery is affected by your general health and medical condition. Its medical professionals will do a complete examination to assure your safety during the hair transplant procedure.
This clinic provides affordability and excellence.
We recognize that many people seeking a hair transplant are concerned about the cost. That is why we provide clear pricing, enabling you to make an educated choice about your investment in your beauty and confidence. Panacea is your best bet for the Best Hair Transplant in Delhi.
Our dedication to excellence guarantees that you get the finest possible treatment and outcomes. We think that a hair transplant should treat not just your hair loss but also your general well-being and self-esteem.
Finally, while considering a hair transplant, it's critical to evaluate the numerous cost variables. Remember that the first priority should be the quality of treatment and the experience of the medical staff. This clinic guarantees both the price and the quality of your hair transplant journey.