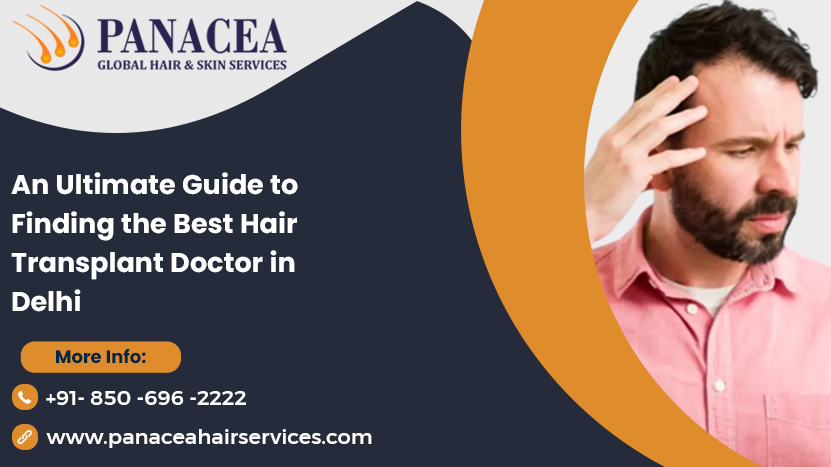 Delhi, the vibrant heart of India, is renowned not only for its rich cultural heritage but also for its prominent status in the medical field. Among its myriad healthcare offerings, the art and science of hair restoration have taken center stage. With a plethora of options available, finding an effective Hair Transplant Doctor in Delhi can be a daunting task.
Delhi's standing as a major healthcare hub is indisputable. The city proudly boasts a myriad of clinics and practitioners, each vying for your attention. When it comes to hair transplants, selecting the right Hair Transplant Doctor is pivotal for achieving the best results.
When embarking on the quest for the perfect Hair Transplant in New Delhi, certain qualities are non-negotiable. These attributes can be your guiding stars in the selection process:
Qualifications and Credentials
At the forefront of your considerations should be the qualifications and credentials of the surgeon. A reputable Hair Transplant Doctor should hold relevant medical degrees and certifications, ideally from esteemed institutions. Look for affiliations with recognized medical boards and organizations, which signify a commitment to adhering to high standards of care.
Experience is the linchpin in the world of hair restoration. Choose a practitioner who has a substantial track record in performing hair transplants. Seasoned Hair Transplant Doctors have honed their skills and fine-tuned their techniques, equipping them to tackle a variety of cases with finesse. While seeking the Best Hair Transplant, it's essential to consider pricing. Transparency in the cost structure, competitive pricing, and flexibility in payment options are factors that shouldn't be overlooked. A reputable clinic should offer clarity regarding the Hair Transplant Price in Delhi, helping you make informed decisions without financial surprises.
A Multifaceted Approach
The best Hair Transplant Doctor should offer a spectrum of techniques and solutions tailored to your unique needs. Whether it's Follicular Unit Extraction (FUE) or Follicular Unit Transplantation (FUT), a diverse skill set ensures that your treatment is customized for the most natural and satisfactory results.
Advanced Technology
The use of cutting-edge technology can make a substantial difference in the outcome of your hair transplant. High-end equipment and innovative surgical techniques contribute to precise and less invasive procedures, resulting in minimal downtime and quicker recovery. A modern Hair Transplant Clinic in Delhi should invest in state-of-the-art technology for the profit of its patients.
In your pursuit of the Best Hair Transplant Doctor, real-world testimonials and patient reviews can offer profound insights. It's invaluable to connect with former patients who've undergone similar procedures. Their experiences can illuminate the surgeon's capabilities and the results you can expect.
The ultimate testament to the prowess of a Hair Transplant Doctor is the initial consultation. This is your opportunity to gauge the practitioner's expertise and communication. A reliable doctor should invest time in understanding your unique requirements, evaluating your hair loss condition, and discussing a personalized treatment plan. An open and honest discussion about expected results, potential risks, and the recovery process is indicative of the surgeon's commitment to patient care.
In your pursuit of the Best Hair Transplant Doctor, Panacea stands as a beacon of excellence. Our team of seasoned and skilled surgeons is dedicated to delivering exceptional results, harnessing the latest technology and innovative techniques to ensure your hair transplant journey is a resounding success.
We take pride in our commitment to transparency and competitive pricing, ensuring that you have a clear understanding of the Hair Transplant Price. In the dynamic landscape of Delhi's medical excellence, your hair deserves nothing but the best. Connect with us at Panacea and take the first step towards your hair restoration journey. Let's work together to bring your hair dreams to life. Your path to a fuller head of hair begins here.