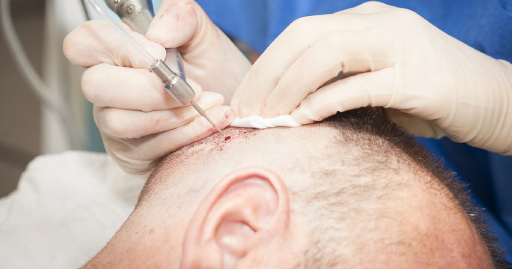 Hair transplant methods have grown more efficient and effective. They are usually safe and effective. Nonetheless, like with any medical operation, sometimes things don't turn out as expected. When you are seeking the service of a capable hair transplant surgeon, look for one who keeps the problems related to transplant to a minimum.
Patients' concerns about hair transplant surgery:
While hair transplant surgery is typically safe with minimal risks, a few things may go wrong. To have the best outcomes, choose a licensed and qualified surgeon. If you are in search of a gifted, seasoned, and skilled Hair Transplant Surgeon in Delhi, Panacea is the apt choice since we have highly competent and experienced hair transplant surgeons on staff. Here are some possible situations:
Overharvesting:
Taking an excessive number of grafts from the donor location might result in bald spots on the scalp. This usually happens when the doctor underestimates the number of grafts needed to cover the desired region.
Unsatisfactory Results:
An incorrectly formed hairline might seem unnatural and misplaced. Such results are often the result of poor hair transplant procedures.
Poor Hair Growth:
In certain circumstances, even after many months, hair may not grow normally. This is due to insufficient aftercare and a bad diet.
Complications of Surgery:
If the surgery is done by an untrained clinician, fainting, severe bleeding, or tachycardia may occur. If you want to benefit from the skill and expertise of a competent Hair Transplant Doctor in Delhi, who minimizes adverse outcomes, consider visiting Panacea. We possess one of the most talented and experienced hair transplant doctors.
Infections:
Although infections are rare, they may occur in the transplanted location if adequate post-operative care is not provided. Scalp care is critical for avoiding infections in the scalp and hair follicles.
How to Deal with an Unsuccessful Hair Transplant?
When a hair transplant fails to provide good results, there are many corrective treatments available. However, consultation with a professional is essential to determining the exact issue and planning suitable actions to minimize future problems. Panacea Clinic is an apt option for a Hair Transplant In New Delhi due to our experienced team of surgeons and our commitment to providing the best results. Our results speak for themselves. Following are a few recommendations:
Medications:
Scalp infections are an uncommon side effect of hair transplant surgery. If this occurs, it is critical to seek the advice of a qualified physician who can prescribe suitable antibiotics to treat the infection. In certain circumstances, draining pus from the scalp may be required to avoid further infection spread.
Adherence to Post-Transplant Care:
It is also critical to take prescribed medications as directed. A healthy lifestyle and hygiene are essential for a successful transplant.
Undergo a Revision surgery:
This operation corrects problems like an uneven hairline or scars from prior surgery. Some transplanted hair follicles are often removed during revision surgery. Donor follicles from the back or sides of the head are then used to fill in the damaged regions.
The Famous Camouflage Method:
If thinning hair or gaps remain following a hair transplant, the camouflage method can be explored. It entails the removal of unsatisfactory hair transplants and their replacement with more natural-looking ones.
Graft extraction method:
This technique, also known as the extraction process, involves removing extensive artificial hair grafts utilizing FUE.
Timeless treatment- Ointments:
Dead skin accumulates on the scalp following surgery, which may be addressed using recommended ointments. However, scalp necrosis may develop in rare situations as a result of significant recipient skin splitting and de-vascularization induced by the use of several recipient grafts. In such cases, surgery is the only viable option.