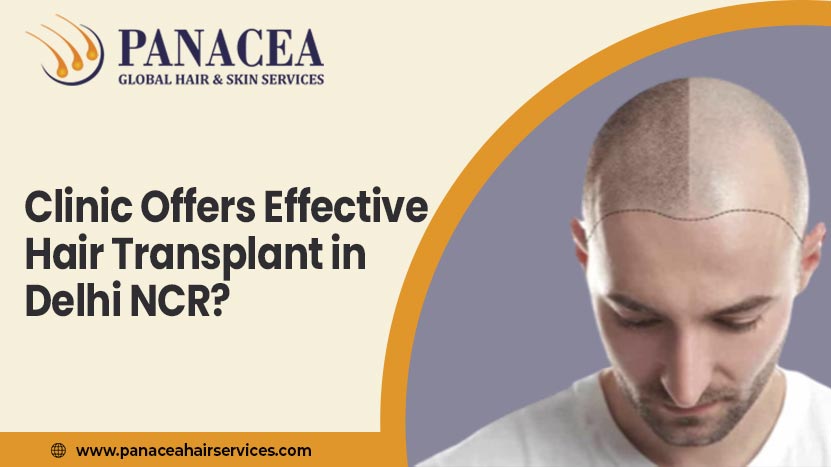 Many people look into hair transplant surgeries in order to restore confidence and self-esteem. A hair transplant is an amazing medical procedure that not only replaces lost hair but also improves one's self-image. When it comes to selecting a clinic in the Delhi NCR area that provides successful hair transplant options, one name stands out: Panacea. In this post, we'll dig into the subject of hair transplantation, covering everything from Hair Transplant Side Effects to the cost of the process in Noida and the overall success rate in India.
A hair transplant is a medical miracle that offers joy to numerous people by giving them a second opportunity to reclaim their magnificent mane. The expert surgeon gently extracts healthy hair follicles from the donor location, which is usually the back of the head, and artistically implants them into the balding regions. A hair transplant may take anywhere from four to eight hours, depending on the amount of hair loss and the number of follicles involved. But what distinguishes the extraordinary from the usual results? The solution is in the clinic selection, and This clinic is a shining example of this.
When it comes to committing your precious hair to a clinic, you want to know that the results will be natural-looking and long-lasting. With its steadfast dedication to quality, This clinic guarantees that each hair transplant is a piece of art. Our doctors' talented hands produce a masterpiece, restoring not just your hair but also your self-esteem. Panacea stands out in the massive landscape of hair transplant facilities, with an amazing track record of Hair Transplant Success Rate in India. Our commitment to providing the finest results for our patients has given us the distinction of being a hair restoration industry leader.
The Benefits:
Worried about the side effects of a hair transplant? We put your health first. Our skilled staff uses innovative procedures to reduce the possibility of any negative effects, assuring a pleasant and quick recovery.
Are you concerned about the Hair Transplant Cost in Noida? Panacea provides affordable prices without sacrificing quality. We think that everyone deserves the chance to recover their trust, and our open pricing system reflects this view. When searching for the finest hair transplant in Delhi NCR, you're looking for a change, not simply a process. This clinic is your dependable travel companion, providing a world-class experience with no place for compromise. This clinic has cutting-edge facilities outfitted with cutting-edge technology, assuring accuracy and perfection at every stage of your hair transplant journey.
Our experienced surgeons bring a lot of knowledge to the table, ensuring the best outcomes with a personal touch. This clinic recognizes that each person is unique. That is why we provide personalized solutions that are suited to your individual requirements and expectations.
Because we are committed to achieving natural-looking outcomes, you will not only restore your hair but also your confidence and self-assurance.
This clinic is the starting point on your journey to confidence.
Choosing This clinic for your hair transplant is a step towards increased confidence, self-assurance, and self-esteem. You may be certain that you are in good hands because of our consistent commitment to quality.
Finally, the search for the Best Hair Transplant in Delhi leads to one name - Panacea. This clinic is the perfect place for a life-changing hair transplant experience, with a track record of success, affordable pricing, and a dedication to your well-being. Say goodbye to hair loss worries and welcome to a new you at This clinic, where natural, long-lasting solutions are not just a promise but a reality. With This clinic, you may regain your confidence one hair at a time.